Clarity Software Supports Our Units

Clarity is advanced Chromatography Data Station (CDS) with optional software modules for data acquisition, processing and instrument control. Its wide range of data acquisition interfaces (A/D converters, LAN, USB, RS232) allows connection to any GC or LC chromatograph.
Clarity software has support implemented for most of our units.
To control the units using Clarity, the latest updated version of the program should be used.
Download Clarity modules for ECOM's devices: https://www.ecomsro.com/support/software


Clarity DEMO version allows you to get your hands on the Clarity software.
Here is a link to Clarity Demo download page: https://www.dataapex.com/product.php?id=clarity-demo.php
This link will assure, that you, as our customer, will always download the latest software version.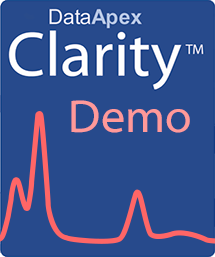 For more details go check www.dataapex.com